This tour is approximately 9 hours long and is available year-round.
We can take you to either Cape Cod or to Martha's Vineyard from Boston.  Cape Cod is approximately a 75-minute drive south of Boston, passing through historic towns such as Quincy and Plymouth.  In planning, it's important to note that access to Cape Cod, and the ferry for the Vineyard, is across a choice of either the Bourne or the Sagamore Bridge, each of which cross over the Cape Cod Canal.  Both of these bridges have serious seasonal back-up traffic Friday through Sunday, as people travel to the Cape either for vacations or to enjoy their summer homes between May and early October.  It's best to plan your visit to see Cape Cod or the Vineyard on weekdays during the busy season.  From November through April, the traffic isn't an issue.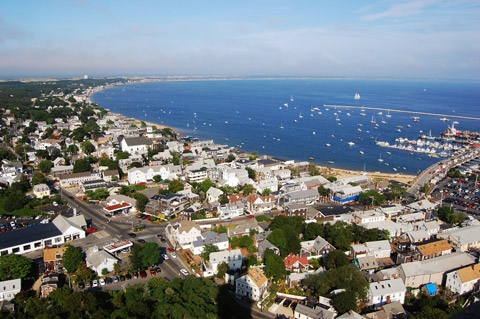 If you only want to see Cape Cod, we'll visit picturesque sea-side towns such as Sandwich, Hyannis, Falmouth, and perhaps Yarmouth or Chatham or other localities.  You can see the John Kennedy Monument and Museum in Hyannis, the Church of Saint Francis Xavier – which the Kennedy family attends.  Please make note, however, that the Kennedy compound is hidden by high hedges and is visible only by boat.  During the summer season, there are optional boat tours available out of Hyannis Harbor, which will provide you with a view of the compound.  Provincetown, at the tip of Cape Cod, is too distant for a day trip as the drive takes approximately 2 hours and 20 minutes each way.
The following are examples of some of the sights you may visit during a Cape Cod or Martha's Vinyard tour.
Falmouth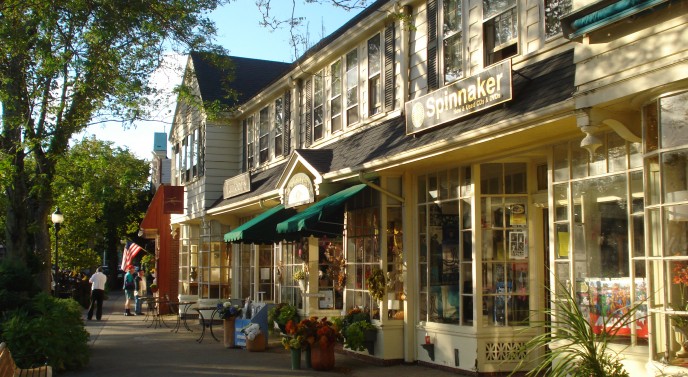 Each of the towns listed above has its own appeal – Falmouth, for example, is where we meet the ferry to Martha's Vineyard.  If you want to take the ferry, you'll also see Falmouth and the Woods Hole Oceanographic Complex where Dr. Robert Ballard works.  Dr. Ballard was the discoverer and early photographer of the Titanic, and his underwater films of the wreck are what you saw in the blockbuster movie "Titanic" (1997).
Charming Falmouth was a Patriot town during the American Revolution.  When the English abandoned Boston, after being forced out by George Washington in March, 1776, their fleet sailed south towards New York, and on the way, British warships shelled this town of fishermen, farmers and whalers as they passed along the coast.
On the shore, you'll see fine old lighthouses, some of which had been built by the British, homes dating in the 1600s, sandy beaches, and the world famous Woods Hole Oceanographic Institute.
Chatham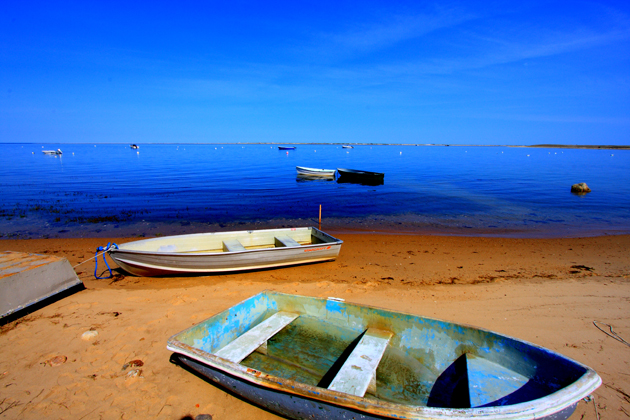 Chatham is a day-fishing community at the "elbow" of Cape Cod.  The fishermen here, referred to as "day-fishermen", go to sea very early in the morning and arrive back in port with just-caught fish as trucks from Manhattan arrive for the daily fish auctions – which are quite spirited.  By 10 or 10:30 in the morning, the New York fish company trucks are leaving the parking lot and headed back to New York City with highly regarded "Chatham Fish", where the fresh fish will be on the tables of the best restaurants in Manhattan by nightfall.
Local residents go clamming for Quahogs, clams, scallops, and mussels, and there is an increasing colony of Harbor Seals in the bay.  These fatty seals are very appealing to Great White sharks, so perhaps you'll take home a few tales of having seen the slicing fins of Great Whites circling the sand bars where the seals soak up the sun and find relative safety from the sharks.
Lobstering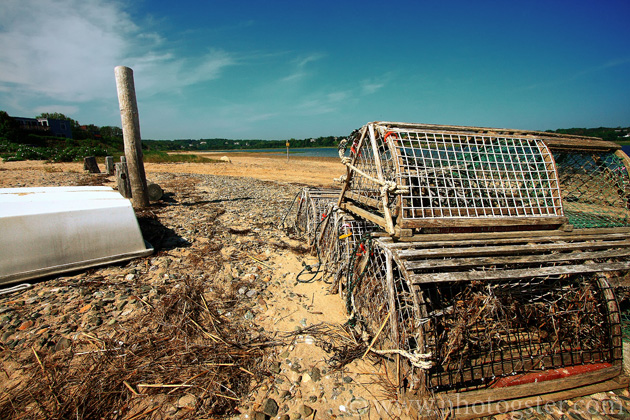 Massachusetts residents who are 16 and older are entitled to an amateur Lobster fishing license, which allows you to put out up to ten lobster traps.  2012 was a bountiful year for catching lobster, causing the wholesale price of lobster to fall as low as $1.50 per pound.  In the Colonial era, jail wardens often fed inmates lobster 4 or more times per week – until an inmate filed a lawsuit claiming that it was cruel and unusual punishment. You won't hear most New Englanders making a claim like that – many of us would like to live on lobster alone!
Since lobsters are migratory, lobsters that have been tagged in Maine are often found in Massachusetts Bay and vice versa.
Martha's Vineyard
Ordinarily on Mondays through Thursdays in the summer, we can obtain ferry reservations to take our vehicle over to the Vineyard – however, summer weekend reservations are mostly sold-out by February each year, which is when the ferry tickets come on sale.  Should you desire to make this wonderful journey, make the decision quickly, and take a tour with us Monday through Thursday, so we can swing into action and get the ferry tickets.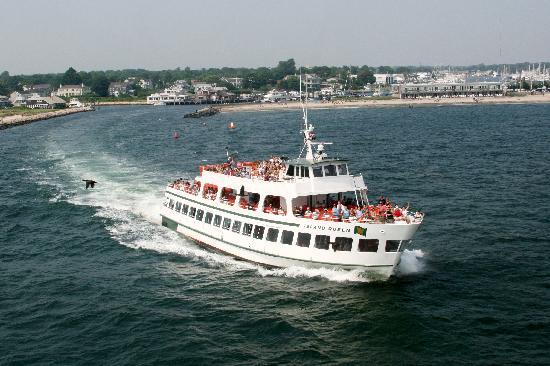 The ferry ride is approximately 30 minutes, and the views are priceless.  From the open sea, to the sea-side cliffs of Cape Cod, you'll see magnificent old mansions, lighthouses, yachts, and sailboats.  There are lots of sites to see on the Vineyard, where there are 6 towns and smaller, quaint villages, white clay cliffs, lighthouses, the Elizabethan Islands – where the first house in New England was built in 1602, Noman's Island – used for gunnery or bombing practice by the United States Navy, and the summer getaway houses of Hollywood movie and television stars.
On these short boat trips, we've seen basking sharks, whale spouts, salt-water sunfish as big as a car, sudden water spouts, and much more.
The Norsemen (Vikings) are said to have occupied Martha's Vineyard in 1000AD, and they named it "Vineland", as it was teeming with grape vines as well as fierce Native Americans.  In 1602, English explorer Barthomew Gosnold of Falmouth, England rediscovered the island, naming it after his mother, Martha.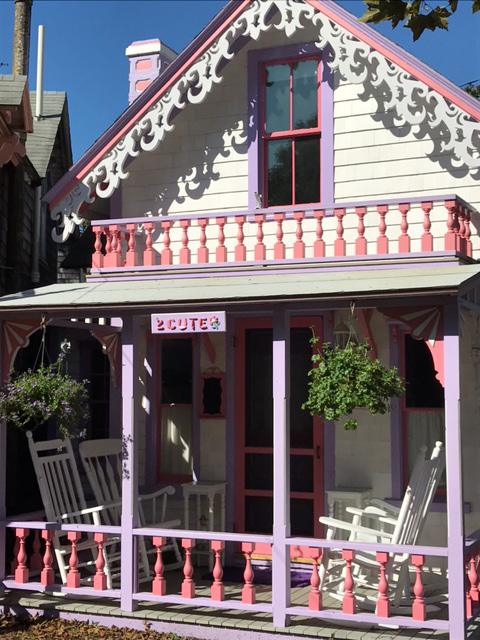 Seasonally, you can see the oldest working carousel in the country – the Flying Horses (1876 on the National Historic Register) – complete with a brass ring you can try to snag to win a free ride.  You'll find a myriad of restaurants, famous celebrities, and special places like "Cottage City", which is a Methodist campground filled with over 100 tiny Victorian cottages called "Painted Ladies" and are seasonally occupied by 4th and 5th generations of families. (See the images above.)
Additionally, we can visit the sites where such films a "Jaws" (1975) and the very poignant "Summer of '42" (1971) were filmed, and if you're a bit daring and adventurous, you may elect to take an optional open-cockpit bi-plane ride over Chappaquidick.
We also visit Aquinnah, where Jackie Kennedy spent her summers.  This section of the Vineyard is where there is a Wampanoag Native American Reservation, and a wonderful hilltop with magnificent 360 degree views of Naragansett Bay and the Elizabeth Island chain.  The hill is made of colorful clay, is striated with multiple colors, and is bordered by a photogenic old lighthouse – don't forget your camera!